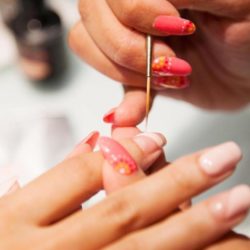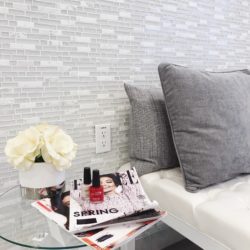 Curious how things work around here? Check out the following FAQ's:
Are your Nail Technicians trained & knowledgeable?
Yes, all of our Nail Technicians are certified and must undergo regular training to meet industry standards and protocols.
Does your salon meet health standards?
Absolutely! We pride ourselves on the cleanliness of our salon and our sanitization and disinfection procedures. We go above & beyond the regular health standards set out by the province of Ontario.
In fact, we use one-time disposable files and buffers for each customer. Our work surfaces & pedicure sinks are disinfected after each client using a hospital-grade sterilizer; ACCEL TB. Our metal implements are disinfected using ACCEL CS 20. Each nail technician has 2 sets of tools to ensure there is absolutely no chance of cross contamination. One set is disinfecting while the other set is being used!
What's your Late Policy?
We understand that unexpected circumstances can arise, especially in the middle of a busy work day. In light of this, we have a 10 minute grace period at Polish'd. If we have not heard from you, or if your nail technician cannot accommodate any further delays to their schedule, then your requested service may be rescheduled to an alternate time that suits you. We always do our best to accommodate all of our clients personal circumstances and our first intentions are never to refuse anyone's service!
What's your Cancellation Policy?
Because your services are reserved especially for you, we ask that you provide us with at least 24 hour notice for any changes or cancellations. For same-day bookings, we respectfully ask that you call to cancel or reschedule at least 3 hours before your scheduled appointment time. If insufficient notice is provided, we reserve the right to charge in full, or deduct accordingly from any prepaid manicure tabs. This policy is strictly enforce & we greatly appreciate your understanding and cooperation.
*For groups of 2 or more, a credit card number is required to reserve. The card will not be charged unless customer fails to provide sufficient notice for any changes or cancellations. If charges are incurred, it will be 100% of the scheduled service cost*
What's your No Show/Last Minute Cancellation Policy?
We understand that things come up unexpectedly so to be fair, our reception team waives your initial "no-show" or "last minute cancellation" charge. After that, we ask that you provide us your credit card number to put on file to guarantee your attendance for future bookings. Otherwise, if you find it difficult to commit to a previously reserved appointment time, we kindly ask that you take your chances at walking in for an appointment when it is most convenient for you.
Do you guarantee the longevity of your services?
While we stand by our work, and the quality of our services that we perform, nail polish is certainly not bullet-proof. The longevity of regular polish or gel polish (such as shellac), varies depending on lifestyle. As an added customer service gesture, we have a 7 day chip policy in place, which allows you to have imperfections that occur within the first 7 days of any gel manicure service, repaired at no cost. We kindly ask that you book in for a "chip fix" to have the minor flaws rectified.
Im not happy with the colour or manicure, can I have it re-done at no charge?
While our priority is your complete satisfaction, we can offer fixes, within reason. If the overall quality of the manicure is performed to our standard, and your unhappiness lies with the colour choice, then we can offer you a gel polish change at a discounted price of $25 (or regular polish change at a discounted price of $10) within 24 hours of the original service date. Otherwise, any further feedback must be brought to the attention of management with supporting photos via email at which point our team will be in touch directly, to rectify your concerns. Please allow 2-3 business days for inquiries to be appropriately addressed.
Please send all feedback to info@polishdnailbar.com
Can we all sit together?
We will always do our best to ensure groups sit together but it is not guaranteed, as we have a regular base of appointments and bookings. Seating is also subject to staffing levels and service availability.
Do I have to schedule in for nail art, french finish or gel polish removal before my appointment?
Don't forget to book your add-ons when you book online, over the phone or email! French finish, nail art and gel polish removal will take longer than our standard service times, so forgetting to book them might not leave your technician enough time to give you the exact service you want. While we always try our best to accommodate all requests, any last minute add-ons are not always guaranteed and will be accommodated on an available basis.